PRODUCTS | Oil Repelling Agent
NOXBARRIER possesses excellent oil repelling properties
that provides reliable oil and soil resistance.
Prevents oil, grease and solder flux
from sticking or curling up.
1) Excellent coatability allows the formation of an evenly dispersed.
2) Excellent oil repelling properties prevent oil and grease from sticking.
3) Silicone free.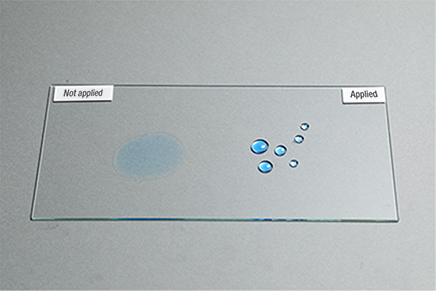 Applications
※ Information listed are based on our company test data.
※ Actual values may vary.
※ Information below may change without notice
Product
NOXBARRIER
ST-461
NOXBARRIER
ST-462
NOXBARRIER
ST-463
NOXBARRIER
ST-464
NOXBARRIER
ST-465
Composition
Fluorine containing resin
Solvent
Fluorinated solvent
Solid Content
2wt%
15wt%
2wt%
15wt%
Appearance
Clear to Light Yellow Liquid
Packaging
20kg/20L Can
UN
Class 3
Application
Water and oil repellent
Improved oil repellency
Improved oil repellency
Improved wettability
Improved heat resistance
Water and oil repellent
High concentration article
High concentration article
Example of use
Fouling prevention of a lens
Prevention of grease bleeding
Rust prevention of metal
Waterproofing of Circuit Boards
Prevention of grease bleeding
Electrolysis solution sealant
Waterproofing of Circuit Boards
Electrolysis solution sealant
BROCHURE REQUEST
AND INQUIRIES