PRODUCTS | Acrylic Elastomer
Our NOXTITE brand acrylic elastomer, provides excellent oil
and heat resistance as well as ease of processability.
Through research on sealing materials, we continue to develop
and manufacture various special elastomers and additives.
Noxtite is widely used for sealing, hose, coating material, adhesives and various other industrial applications where heat, oil and chemical resistance is required.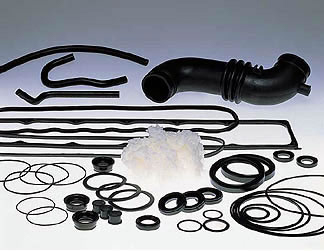 Characteristics of NOXTITE
・Wide service temperature: -40 ℃ to 185℃
・Excellent ozone resistance and weatherability
・Outstanding chemical resistance to petroleum based oils and grease, fuels, engine oils, gear oils and torque converter oil.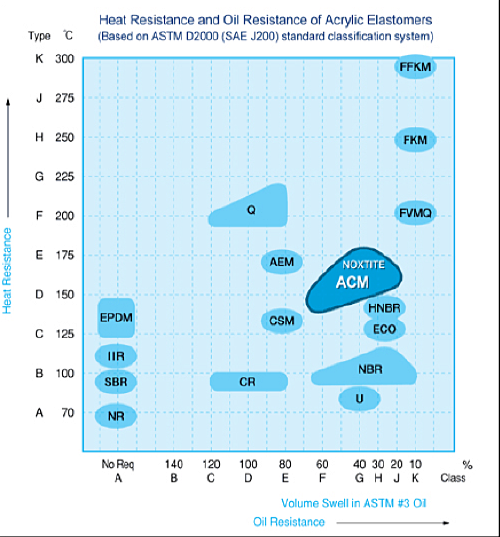 Product List
※Information listed are based on our company test data.
※Actual values may vary.
※Information below may change without notice.
Chlorine Group
| Product | Appearance | Mooney Viscosity ML1+4(100℃) | Low-temp Properties Tg(℃) | Crosslinking Site Type |
| --- | --- | --- | --- | --- |
| NOXTITE A-1095 | White, Spongy - Yellowish transparent solid | 53 | -17 | CHEMINOX CL-T-2R/Metalic soap |
| NOXTITE PA-212 | White, Spongy - Yellowish transparent solid | 40 | -31 | CHEMINOX CL-T-2R/Metalic soap |
| NOXTITE PA-214 | White, Spongy - Yellowish transparent solid | 27 | -41 | CHEMINOX CL-T-2R/Metalic soap |
Epoxy Group
Product
Appearance
Mooney Viscosity ML1+4(100℃)
Low-temp Properties Tg(℃)
Crosslinking Site Type
NOXTITE A-5098
White, Spongy - Yellowish transparent solid
55
-17
Dithiocarbamate,
Ammonium Carboxylate
NOXTITE PA-312
White, Spongy - Yellowish transparent solid
40
-30
Dithiocarbamate,
Ammonium Carboxylate
Active Chlorine Group
Product
Appearance
Mooney Viscosity ML1+4(100℃)
Low-temp Properties Tg(℃)
Crosslinking Site Type
NOXTITE PA-401
White, Spongy - Yellowish transparent solid
55
-17
Sulfur/Metalic soap,
TCY/Dithiocarbamate
NOXTITE PA-401L
White, Spongy - Yellowish transparent solid
48
-14
Sulfur/Metalic soap,
TCY/Dithiocarbamate
NOXTITE PA-402
White, Spongy - Yellowish transparent solid
40
-31
Sulfur/Metalic soap,
TCY/Dithiocarbamate
NOXTITE PA-402L
White, Spongy - Yellowish transparent solid
33
-31
Sulfur/Metalic soap,
TCY/Dithiocarbamate
NOXTITE PA-402F
White, Spongy - Yellowish transparent solid
39
-33
Sulfur/Metalic soap,
TCY/Dithiocarbamate
NOXTITE PA-403
White, Spongy - Yellowish transparent solid
38
-36
Sulfur/Metalic soap,
TCY/Dithiocarbamate
NOXTITE PA-404N
White, Spongy - Yellowish transparent solid
30
-42
Sulfur/Metalic soap,
TCY/Dithiocarbamate
Special Crosslink Group
Product
Appearance
Mooney Viscosity ML1+4(100℃)
Low-temp Properties Tg(℃)
Crosslinking Site Type
NOXTITE PA-422L
White, Spongy - Yellowish transparent solid
24
-33
Metalic soap/CHEMINOX ACP7050
NOXTITE PA-521
White, Spongy - Yellowish transparent solid
54
-17
CHEMINOX AC-6/Vulcofac ACT55,
CHEMINOX CLP5250/Vulcofac ACT55
NOXTITE PA-522HF
White, Spongy - Yellowish transparent solid
30
-31
CHEMINOX AC-6/Vulcofac ACT55,
CHEMINOX CLP5250/Vulcofac ACT55
NOXTITE PA-526
White, Spongy - Yellowish transparent solid
40
-26
CHEMINOX AC-6/Vulcofac ACT55,
CHEMINOX CLP5250/Vulcofac ACT55
NOXTITE PA-524
White, Spongy - Yellowish transparent solid
25
-44
CHEMINOX AC-6/Vulcofac ACT55,
CHEMINOX CLP5250/Vulcofac ACT55
Characteristic
Chlorine Group

Epoxy Group

Active Chlorine Group

Special Crosslink Group
BROCHURE REQUEST
AND INQUIRIES